Damiàn Boggio & Donatella Pezzoli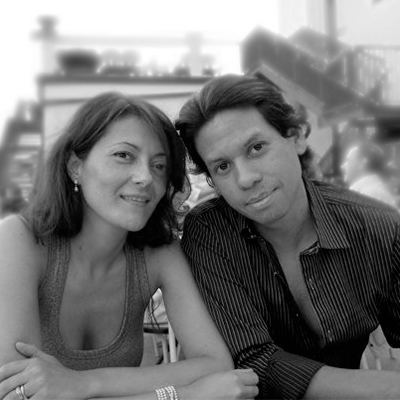 Damián Boggio was born in Buenos Aires, Argentina, in 1972.
His parents and his grandparents were "tangueros".He works professionally with the tango since 1999. He started playing music in Buenos Aires ́s best milongas between 2000 and 2010 ("Salón Canning", "La Nacional", "El Beso", "Porteño y Bailarín", "CITA", "La Noche de Gavito"), learning from the great and passionate porteño (born in, belonging or related to Buenos Aires) dancers, Kwon as "old milongueros" (old milonga dancers), who frequented their "tango, friends and drinks nights". In this way, he was able to access the dance classes of these historic dancers, whom he frequented almost every night, for more than 10 years.
Between 2006 and 2010 he organizes his "Mina Milonga", in Salón Canning, every Tuesday, presenting the best dancers and orchestras live.
From 2004 he travels to Europe, proposing his distinctive (unmistakable) music playing style. Up to date, he has played music in Italy, Germany, UK, France, Portugal, Spain, Switzerland, Romany, Bulgaria, Turkey, Russia, Ukraine, Poland, Luxemburg and Holland.
In 2006 he starts organizing courses for those wanting to be tango DJs, and tango history and culture lessons in which many of the present well-known tangoes DJs learned their trade.
In 2008 he is the first tango DJ to play music in Asia (Corea, Japan, Taiwan, Hong Kong, Singapore, Vietnam), also giving his highly appreciated courses.
In 2009 he creates his "La Típica Mina" orchestra, with which he tours around Italy. In 2011 the group returns to Europe as a duo (piano and bandoneón). His interest is focused on promoting the original tango music.
Today he does so in his tour "EL DISCO ES CULTURA 2018" ("Record is Culture 2018"), around Argentina, Europe, and Asia, as he has been doing during the last years. To achieve his goal he uses the old vinyl records that belonged to his parents and grandparents, the same he used at the beginning of his career, back in 1999, in Buenos Aires.
Nowadays he is the only one to play tango music using vinyl records, carrying them along all around the world. This has inspired many tangoes DJs to perform likewise, thus bringing back to life the interest in the original old records.
Tango Teacher – FUA Florence University of the Arts (2019)
Tango Teacher – Dance Florence Center – Firenze (2018 – Present)
Maestra di tango da 10 anni, con un'esperienza di 15 anni di tango ballato. Esperienza che comprende esibizioni in teatro e organizzazione di eventi internazionali di tango. Membro dell'associazione Tango Firenze (legata all'Associazione Casa del Popolo di Impruneta, Firenze), poi Presidente di Tango Florido ASD, Firenze.
Esperienze:
Docente di tango argentino e di storia del tango – FUA | Florence University of the Arts – Firenze (2019 –Presente).
Maestra di tango argentino – Dance Florence Center – Firenze (2019 – Presente)
Maestra di tango argentino – DLF Dopo Lavoro Ferroviario – Tango Firenze and Tango Florido ASD – Firenze (2013 – 2018).
Maestra di tango argentino – Casa del Popolo di Impruneta – Tango Firenze (2009 – 2013). Giornalista – Il Corriere Di Firenze Editrice 2000 (2003 – 2012)
Web Writer e giornalista – Loggia Group Editoria Srl (2004 – 2007)
Commercial Business e comunicazione Europa Service (1996 – 2003)
Ballerina di tango e attrice
Nomadi Oratorio di Santa Caterina – Compagnia dell'Arganti (2009)
Chianti Danza Tango Show (2010)
Murder in the Cathedral by T.S. Eliot, San Michele in Arcangelo, Compagnia dell'Arganti(2010)
The Origin of Tango, tango Show al DLF Sports Center del Dopo lavoro ferroviario diFirenze. (2016)
Un Bacio al Piazzale, tango show per il Sindaco di Firenze (2017)
CASCì-NìC, tango show al Parco delle Cascine (2018)
Tango Events Planner
Come Tango Firenze e poi Tango Florido abbiamo ottenuto eccellenti risultati in termini di presenze, critica e apprezzamento da parte di ballerini italiani e europei.
Milonga coi Baffi con la partecipazione di Alfredo Petruzzelli, il primo musicalizador italiano.(2005-2006)
Milonga di Impruneta – Impruneta Firenze (2003-2013).
Raduno Milonguero di Impruneta, il raduno milonguero che ha fatto storia! La nostraassociazione ha inventato un format che adesso è replicato in tutta Europa. (600 presenze ogni anno). (2003-2012).
Chianti Tango Festival (mille presenze) con Lucas Ameijeiras y Yanina Bassi & El Flaco Dani -Impruneta (Giugno 2013).
Milonga del Fiorino – Firenze, la milonga estiva più amata della città (2013- presente)
Concerto e Milonga con la musica dal vivo della Juan D'Arienzo Orquesta, Firenze (500presenze) (2017).
Novella Tango e l'Atipica Mocata, concerto e tango show nel programma officiale del"Florence Dance Performing Arts Festival" di Marga Nativo and Keith Ferrone. (2018).
El Porteñito, Milonga Típica and El Besito, Milonga Traditional di Firenze (2018 – Presente).Tango TrainingCompetenze di tango milonguero, tango salón, milonga e tango vals con i maestri, ballerini e coreografi: Osvaldo Roldàn and Anna Maria Ferrara, El Flaco Dani and Ana Maria Shapira, Thierry Le Cocq and Alessia Lyndin, Yanina Bassi and Lucas Ameijeiras, Maria Plazaola, Tete Rusconi, Osvaldo and Coca Cartery, Mariano Chicho Frumboli and Juana Sepulveda.
(2003-2015).
Orario Corsi Damiàn Boggio & Donatella Pezzoli
Vuoi conoscere tutte le novità legate al Florence Dance Center?
ISCRIVITI ALLA NEWSLETTER
Lascia i tuoi dati qua sotto per rimanere sempre aggiornato sulle nostre iniziative